For complete pricing and a catalog please email:
sales@jvconverting.com
JVCC E-Tape
JVCC E-Tape Colored Electrical Tape is a general purpose all-weather PVC film electrical tape with an aggressive rubber resin adhesive that comes in OSHA colors. It is a UL/CSA listed electrical tape with a 1.5 inch inner diameter core. Used for cable coding, quick identification of electrical phases, circuits, feeders, and branches. Flame retardant and cold resistant. Available in 11 colors and multiple sizes.
JVCC EL-7566AW
JVCC EL7566-AW Premium Grade Electrical Tape is a premium grade, all weather Black PVC electrical insulation tape. It has a synthetic rubber adhesive and is flame retardant and cold resistant. 8 mils thick on a 1.5 inch diameter UL/CSA listed core.
3M 35
3M 35 Color Coding Vinyl Electrical Tape is a premium quality, 7-mil electrical insulating tape. Flame-retardant, weather-resistant; resists UV rays, abrasion, moisture, alkalies, solvents, many acids. For indoor and weather-protected outdoor applications. Stretches to conform to virtually any shape that requires color-coded insulation. Outstanding electrical and mechanical properties make 3M 35 excellent for use in phase identification, color coding of motor leads and piping systems, and for marking safety areas. Available in 9 colors.
3M Scotch Super 33+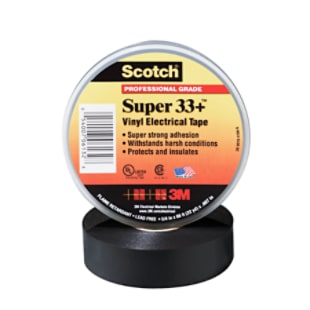 Vinyl Electrical Tape is a black, 7 mil premium grade all-weather vinyl electrical insulating tape with an aggressive adhesive and elastic backing that enables it to easily conform to irregular surfaces for water-resistant electrical and mechanical protection. 3M Super 33+ provides flexibility and easy handling for all around performance. Its PVC backing with its excellent electrical insulating properties provides primary electrical insulation for splices up to 600V and protective jacketing. UL Listed and CSA Certified. Excellent resistance to UV rays, abrasion, moisture, copper corrosion, alkalis and acids, and it is flame-retardant. Excellent all-weather performance in cold to 0°F and it is designed to perform in a continuous temperature environment up to 220°F.
3M Scotch Super 88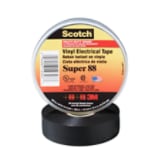 Heavy-Duty Grade Electrical Tape is a premium grade, 8.5-mil thick, all-weather vinyl insulating tape. It is designed to perform continuously in ambient temperatures up to 105°C (220°F). The tape is conformable for cold weather applications down to -18°C (0°F). It has excellent resistance to abrasion, moisture, alkalies, acids, corrosion and varying weather conditions. The combination of elastic backing and aggressive adhesive provides moisture-tight electrical and mechanical protection with minimum bulk. Scotch® Tape Super 88 is an Underwriters' Laboratories Listed and Canadian Standards Association Certified "Insulating Tape." The tape is compatible with solid dielectric cable insulations and with rubber and synthetic splicing compounds, as well as epoxy and polyurethane resins. It inhibits corrosion of electrical conductors and can be used for indoor and outdoor applications.3M Super 88 Electrical Tape Applications: Primary electrical insulation for all wire and cable splices rated up to 600 volts and 105°C (220°F). Primary electrical insulation for 600-volt bus applications, and protective jacketing for high- and low-voltage bus. Protective jacketing for high-voltage cable splices and repairs. Harnessing of wires and cables.
Nitto (Pro) P-28 All-Weather Colored Electrical Tape is a premium grade, all-weather multi-purpose electrician's tape. Designed for color coding; phase insulation; identifying motor leads; insulating wire splices and connections; harness wrapping; protecting conduits; and radio, television, appliance repair work. Ideal for industrial maintenance applications and for wrapping tool handles. Resistant to UV rays, moisture, solvents, alkalis and abrasion. It features a durable, flexible PVC film coated with a non-corrosive rubber-based adhesive. Nitto P 28 is CSA certified, UL listed, flame retardant, cold and weather resistant. On a 1.5 inch inner diameter core.
JVCC PWT-20C Heavy Duty Corrosion Control Pipe Wrap Tape is a 20 mil SPVC pipe wrap/surface protection tape that is highly resistant to sun, water, oil, acids, alkalies, and corrosive chemicals. Provides electrical protection. Protects pipe joints and conduit couplings for overhead or direct buried applications. Designed to be wrapped around itself on a pipe. Bacteria, fungus and abrasion resistant. Flame retardant.
Shurtape PW-100
PW-100 Corrosion Protection Pipe Wrap Tape is corrosion-resistant 10 mil thick PVC tape for wrapping underground piping (both metal and plastic). The tape is coated with a non-corrosive pressure sensitive adhesive and has printing on the black film indicating the tape is PVC Pipe Wrap Tape. Shurtape PW 100 also has excellent moisture resistance and conformability.
Scapa 167 Cohesive Friction Tape is a black 100% cotton cloth tape, frictioned on both sides with an entirely solvent-free adhesive consisting primarily of synthetic rubber, inorganic fillers, and oil (the tape is designed to adhere to itself, not other surfaces). Uses of the Scapa 167 Friction Tape include secondary wrap for electrical maintenance and spot (temporary) holding on wire harnesses. Also can be used as hockey stick blade wrap for better puck control.
Nashua 386 Stretch & Seal Tape, is a self-fusing (an adhesive-free tape that fuses only to itself) silicone rubber tape suitable for dozens of applications where a good water-tight seal is needed. Applications for Nashua Stretch & Seal include: sealing pipes, electrical wiring, wires and hoses; covering sharp edges; protecting against rust and corrosion; wrapping tool handles; marking chain and rope. Nashua 386 creates an instant, permanent water-tight seal and can withstand temperatures from -60°F to +500°F. Chemical and UV resistant. Can be kept in vehicles for emergency hose repairs. Easy to apply and to remove; no sticky residue left on surfaces. When applying the tape make sure it overlaps itself (since it only adheres to its own backing) and stretch/pull the tape tightly around the object.
For complete pricing and a catalog please email:
sales@jvconverting.com